This week Darcy Pattison is hosting
The Random Acts of Publicity 2012
focusing on Conversations about Books. The basic idea of the Random Acts of Publicity is to take the focus off yourself and your own work for a week and instead focus on a friend's book or a favorite book.
So today, I would love to blog about a book I have talked about before.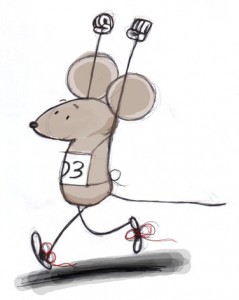 Marathon Mouse,
by Amy Dixon will be released on October 16, 2012. It is her debut picture book and is published by Sky Pony Press.
I am so excited about this book and would love to generate some real buzz in the community about its release.
Marathon Mouse
is a delightful story of an ambitious little mouse named Preston who lives under the Verrazano Bridge in NYC. Although most mice detest Marathon Day, Preston dreams of joining the race. Despite his family's teasing and disbelief, Preston runs the marathon. But will this little mouse avoid getting trampled on and make it to the finishline? For all of those out there who long to be extraordinary and accomplish the un-thinkable, Preston is a wonderful role model.
You can learn more about Amy and Preston at
http://www.amydixonbooks.com/marathon-mouse/
.
And please put this adorable, inspiring title on your list of purchases this fall!
So, now its your turn, Writers! Join
The Random Acts of Publicity 2012
and weigh in!